The Arts Society Nerja
THE NIGHT BEFORE THE MORNING AFTER: HARD DRINKING AND HARLOTS IN ART
Tuesday March 12th 2019
The Cultural Centre (Casa Cultura) Calle Granada, Nerja.
6pm (Doors open at 5pm and tickets only available on the night)
Visitors are most welcome. Entrance €10
(Members of other The Arts Societies €5)
A fully illustrated lecture in English by John Iddon MA BA PGCE
Sponsored by Blevins Franks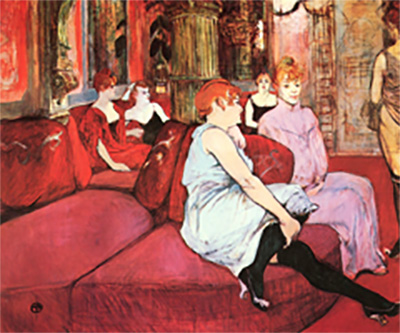 In 2015 the Musee d'Orsay mounted a fascinating exhibition entitled 'Splendours and Miseries' featuring how 'ladies of the night' had been depicted in art. At the same time Tate Britain displayed paintings on the theme of 'Alcohol and Art' The two subjects are often closely interwoven in the work of many great artists including Hogarth, Rowlandson, Cruikshank, Degas, Lautrec and Picasso and others.
About John Iddon
Lecturer and Guide at both Tate Britain and Tate Modern. Ran an MA course in Heritage Interpretation at St Mary's University College. Has lectured freelance to numerous art societies, to the National Trust and the Peggy Guggenheim Gallery in Venice. Lectures on art for cruises. In 2012, he wrote the new guidebook to the newly opened Strawberry Hill.
THE NERJA PLAYERS
March 5th - Two short plays
If I Can't Take It With Me, I Won't Go!
Funeral Tea
The Nerja Players present two one-act plays with a common theme. Both share the black humour frequently surrounding the otherwise solemn event of a funeral. One set in rural Ireland, the other in Yorkshire, they feature typical and entertaining characters to meet our expectations, providing a hilarious scenario of confusion, misunderstandings and an unexpected twist in the tail. A light-hearted and fun evening!
March 19th
The Two Bees Take On Brexit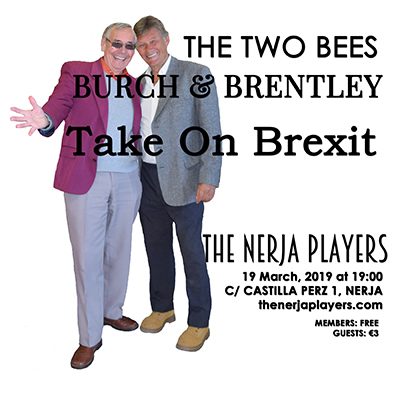 John Brentley & Peter Burch will once again put their heads together and attempt to make you laugh. No matter where you stand, remain, leave or somewhere in the middle, this evening is all about letting go of our differences and find some good old-fashioned humour through all the chaos of the past two years.
If you are interested in theatre and would like to take part, please do come along and join in.
Learn about The Nerja Players at - https:thenerjaplayers.com.