Lux Mundi Ecumenical Centre, Torre del Mar. Avda. Moscatel 1"I", (Jardines Viña Malága/Antigua Casa de la Viña), Torre del Mar, 29740. Opening hours Monday through Friday 10.00 to 13.00 and 15.00 to 18.00. Tel.952 543 334 E-mail: This email address is being protected from spambots. You need JavaScript enabled to view it.. Web: www.lux-mundi.org
Please also see the web site for daily activities in the Centre
LUX MUNDI, TORRE DEL MAR JANUARY & FEBRUARY COMING EVENTS AND EXCURSIONS.
Monday 2nd January - The Centre is closed for a National Holiday.
Thursday 5th January - The Centre is open from 10.00 until 13.00.
Friday 6th January - The Centre is closed for the day of The Three Kings.
Monday 9th January - Half Orange "Bring and Share" Lunch, widows, widowers and singles group. You are welcome to join us and make and meet new friends at the Centre. The group also meets on the other Mondays of the month for coffee, walks, visits to places of interest, etc. Time 13.00.
Tuesday 10th January - All activities at the Centre re-start.
Tuesday 10th & 24th January - Photography Group. From "Good Shot" to "Great Shot", why not come and learn the art of photography with Rob Bell Photography. A fun and informal class to help you to get more from your camera/photos. Open to all, from beginners to the more experienced photographer, regardless of the type of camera you use.This season we will be looking at various styles of photography and computer software. There will be something for everyone!! Don´t forget to bring your camera. Please phone Rob Bell for information on where it is taking place Tel: 951066688 or mobile 678204428.
Wednesday 18th to Wednesday 25th January - Week of Prayer for Christian Unity. Please come and join us, this is an opportunity to make visible the friendship and unity amongst the Christian Churches established in the Costa del Sol. Each day there will be Ecumenical prayers at different churches, for the full programme information please see the media and our web page: Lux-mundi.org.
Thursday 19th January - Coach excursion to Gibraltar. Ticket price 12 Euros available at the Centre. Proceeds for fund raising. Departure times Puente don Manuel (Hotel Romero) 6.45, Algarrobo (Lidl) 7.15, Caleta (Vets)7.20 and Torre Del Mar (Bus Station) 7.30. Depart Gibraltar15.30 approximately. PASSPORTS / I.D. REQUIRED.
Thursday 26th January - Coach Excursion to the villages of the Alpujarras. Lux Mundi, Torre del Mar invite you to join friends on a coach excursion to the Alpujarras set in the National Park of the Sierra Nevada. The coach will drive through the beautiful country side where the mountain tops will be covered in snow arriving at the town of Trevelez, the highest in the Sierras. The town is famous for its cured, dried ham and other local produce. Here you will have free time for breakfast/ coffee and a stroll through the streets, sample the local produce and purchase some. You will join the coach at 12.00 which will take you back down the valley to the town of Pampaneria.
You will have free time to visit the 30 year old famous fabric weaving workshop of Mercedes Carrascosa see her loom and the beautiful fabrics, clothing and tapestries she produces. You can also see the chocolate factory and many other artisan shops. There will be free time for lunch and you will join the coach again at 15.15 for the drive to the villages of Bubion and Capileria for a short photo opportunity of the mountains and valleys with a view down to the sea. You will leave the Alpujarras at around 16.45 arriving back at approximately 18.30. Ticket price 18 Euros available at the Centre. All proceeds for fundraising. Departure times: Viñuela (Football Pitch) 7.55, Torre del Mar (coach station) 8.15, Caleta (opposite Vets) 8.25, Albarrobo (Lidl) 8.30.
Monday 30th January - Talk about Italian Opera and Dinner. Lux Mundi, Torre del Mar invite you to join friends for a fantastic evening listening to the Reverend James Tayler give an interesting and informative power point talk about the history of Italian opera. There will be extracts from some of the most significant master works, such as La Traviata, Rigoletto, La Boheme and more. After the talk there will be dinner, salad, a choice of Lasagnas, including vegetarian, sweet and a bottle of wine between 4 people. Ticket price 12 Euros available at the Centre.Event for fundraising. Time 18.00.
Tuesday 14th February - Grand St. Valentines Day Dinner &Dance. Lux Mundi and the Royal British Legion with other local groups invite you to join friends and have fun celebrating St Valentine's Day at the Salon del Mar in Calle Los Fenicios,Torre del Mar opposite the Mainake Hotel. The price includes a meal, drink and live music by Hector Bannon (of the Safari Lounge). Ticket price 32 Euros available at the Centre and the Royal British Legion. The proceeds will be distributed amongst the different groups and each one will decide what to do with them. Time 19.00. Please book in advance.
For further information and bookings please contact the Centre, Torre del Mar Tel.952 543 334
E-mail: This email address is being protected from spambots. You need JavaScript enabled to view it..
Please note you are unable to make bookings through the web site and sorry we cannot accept cards.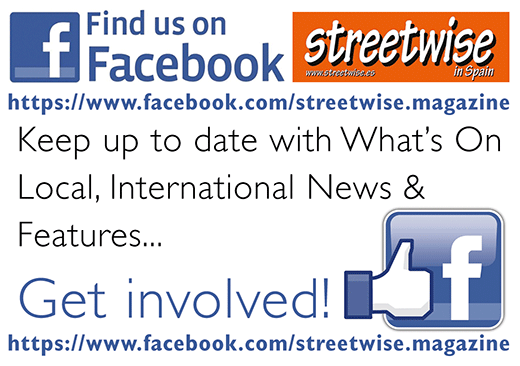 JANUARY 2017 - Cine Club at the Nerja Cultural Centre
...organised by Asociación Nerjeña Acción Cultural & Asociacion Cultural Sol de Almijara
Wednesday, 4 January at 7pm
Cinema Francais
Hippocrates (France 2015)
Sunday, 8 January at 5pm
Star Trek Beyond (USA 2016)
Wednesday, II January at 7pm
Paul Henried Birthday (10 January)
Night Train to Munich (UK 1940)
Sunday, 15 January at 5pm
Documentary, Eight Days a Week
The Beatles, (USA 2016)
Wednesday, 18 January at 7pm
Cary Grant Birthday
My Favourite Wife (USA 1940)
Sunday, 22 January at 5pm
World Cinema
Court (India 2014)
Wednesday, 25 January at 7pm
Sully (USA 2016)
Sunday, 29 January at 5pm
Opera
Bellini's "La Sonnambula"
Juan Diego Flores, Natalie Dessay
Metropolitan Opera Production
Film and Tapas Evening at FTK, Nerja
THE PRESENT SEASON of "Film & Tapas Evenings" continues at FTK's Nerja premises in Pasaje San Miguel (near the main Mercadona) on Friday13th January at 7.30 pm with the film "Old Fashioned".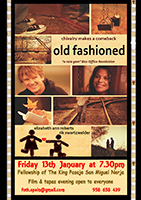 This is a gentle, romantic movie, filmed against a backdrop of beautiful scenery that really adds to the film's tender, rustic feel. It tells of a former student, Clay, living in a small town in Ohio where he works in an antique shop restoring "old-fashioned" odds and ends. He has also decided to turn the clock back with his own lifestyle, a total change from his wild student days; even going as far as choosing that "old fashioned" should apply to his love-life too and so he embarks on a quest to engage in a traditional courtship, one in which he pledges not to be alone in a room with a woman who is not his wife. As the film unfolds, however, we learn that he is still struggling with guilt over his former life-style of sowing wild oats and finds himself in a battle to keep his high standards. The female lead, Amber, is a fun-loving drifter who goes wherever the wind takes her but who has been hurt in past relationships. She turns up in Ohio and rents the small apartment above the building where Clay restores furniture. She is mystified by Clay's gentlemanly behaviour, sincerity and high ideals, although she does think him a "little odd." This obviously cannot be your average boy meets girl story, nevertheless, slowly and sweetly, though often painfully, the two fall in love with one another. Clay ultimately sheds his legalistic mindset toward romantic love but still manages to maintain his high standards of respect towards women. Do join us for this charming and life-affirming film to start the New Year.
For more information call 958 658 439 or email This email address is being protected from spambots. You need JavaScript enabled to view it.
Nerja Decorative and Fine Arts Society
Tuesday January 10th 2017 at 6pm
Casa Cultura, Calle Granada, Nerja. Tickets only available on the night from 5pm
The Ashcan School and American Realism artists
A Fully Illustrated Lecture in English by Tricha Passes. Sponsored by Iberian Funeral Plans
THE ASHCAN SCHOOL was an artistic movement in the United States during the early twentieth century that is best known for works portraying scenes of daily life in New York, often in the city's poorer neighbourhoods.
The lecture will explore the marvellous range of work produced by this group of artists in New York City before the First World War. Drawn by the realism of Dutch seventeenth century artists and the influence of nineteenth century French artists such as Courbet and Manet these young American artists sought to capture life in all its variety on the streets of New York.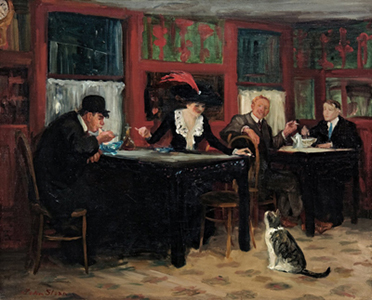 Their subject matter included leisure activities such as shopping and entertainment, immigrants arriving in the tenements on the Lower East side, playing and recreation in Central Park and swimming at Coney Island.
The Ash Can group wanted above all for emerging American artists to find a voice for 'their own art in their own land'.
About Tricha Passes: Tricha took her BA(Hons) at the Courtauld Institute, University of London and won the Sotheby's Prize for a research project on Edvard Munch and the Christiana Avant-garde. Her MA studies were undertaken in the Visual Culture Department at Bath Spa University.
Tricha has taught continually in the Art History Department at Bristol University since 2005 and in History since 2013. In 2009 she won the Teaching and Learning prize for the Faculty of Arts at the University of Bristol. She also has taught in the Visual Culture Department at the Faculty of Creative Arts at Bristol UWE since 1998, the Department for Continuing Education at Oxford University since 2008 and on American Studies Programmes in London since 1999. In December 2013, Tricha became an accredited lecturer for NADFAS.
For further information contact Helen Sijsling This email address is being protected from spambots. You need JavaScript enabled to view it.
Mozart Requiem performed by Coraxalia Choir, in the Auditorium "Manuel de Falla" in Granada. Coraxalia is looking for new members.
CHOIR 'CORAXALIA' BASED in La Viñuela, invites new members to sing the Mozart Requiem at the "First Choir Festival" in Granada, which will take place in March 2017. You will be taking part in the performance with a full orchestra in the main concert hall of the Auditorium "Manuel de Falla" in Granada.
Coraxalia Choir continues to take part in other international projects, as required, such as the SYDEN project which will be presented at the "Burning Ice Festival" in Brussels in December 2016 and at the "Internationale Teater Festval" of Oslo in March 2017.
Rehearsals begin this autumn and singers of all abilities are welcome Come on, it's still not too late to join us and take part!
Contact us for more information on 669 682 139 / 689 111 352, or email: This email address is being protected from spambots. You need JavaScript enabled to view it.
The International Club of Nerja
OPENING HOURS: Tues, Thurs and Sat 11.00 to 14.00 hrs. Open Some Thursday Evenings check for details.
7th Club Re-opens & 100 CLUB DRAW
17th Tapas Tour
19th Quiz Night
23rd Sierra Nevada Day Trip
25th Gibraltar Day Trip
26th Burns Night Celebration
30th Speak Spanish Starter Course
FEBRUARY
2nd Pimientito
4th 100 CLUB DRAW
9th Ladies Pamper Night
10th PISCASSO 'He cannot paint!!' Presentation in the Clubhouse
17th Antequera Tour with Guide & El Torcal
21st Tapas Tour.
Facebook: cidnerja Email:
This email address is being protected from spambots. You need JavaScript enabled to view it.
"Totally run by volunteers"

Exhibition 'Square "at Galerie Luz de la Vida in Competa and live music!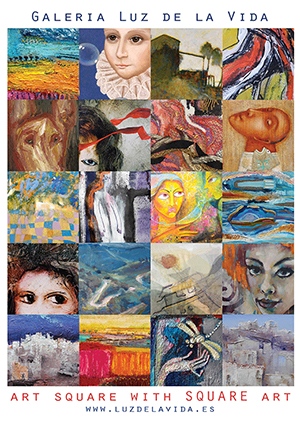 A COLLECTION OF MANY small and bigger paintings all in the shape of a square made by various International artists.
Wednesday the 3rd of January, the evening will start at 5pm and 5 musicians will play together in this Spanish room.
Since the acoustics are good & the atmosphere is relaxed in this authentic space the musicians love to play here. A good moment to celebrate the start of the new year 2017 and to toast on it!
Exhibiting artists: Christa Hillekamp (DE/SP), Alik Assatrian (AR/NL), Neil Bolton (UK), Eva Joensen (DK/SP), Annabel Keatley (UK/SP), Setenay Ozbek (TU), Emma Petitt (UK/SP), Setenay Ozbek (TR), Pavel Nikolaev (RU), Lieuwke Loth (NL/SP), Anouk Slegers (NL/SP), Jo Dennison (UK), Elnur Mahmudiv (AZ) and Poonam C. Tyagi (IND) and more
The Dutch artist Anouk Slegers delivered some of her dreamy and surrealistic works. German artist Christa Hillekamp makes beautiful landscapes, she creates a dreamy world in the little squares. The Russian Pavel Nikolaev, who stays several times a year in Mijas, Spain, has made some wonderful pieces of art on wooden panels. The Hungarian Andras Gyorfi depicts worlds that touch our subconscious. Belgian Jorg Vandaele sculpted out of beautiful Belgian blue stone. His sculpture is still on show in the gallery. He made it during the symposium LUZ half of October. The Indian artist Poonam and artist Elnur Mahmudov from Azerbaijan made square paintings during the symposium, which are also shown during this exhibition till half of January.
Come to Galeria Luz de la Vida for a meeting with artists & musicians and for new inspiration of color, shape and sounds! We gladly welcome you to the beautiful authentic gallery space and toast on the fresh new year!
www.luzdelavida.es
The Almijara Bowls Club
Open for play on 6 outdoor rinks 7 days a week at La Raqueta Tennis and Bowls Club, located opposite the Nerja Club Hotel (N340) and between Supersol and the entrance to Capistrano Village. Club days Monday, Wednesday and Friday 11amstart. Prospective members welcome. Te: 952522225 Website: http://almijarabowlsnerja.wordpress.com
Move It To Music! - dance fitness classes at the Time Sport Gym in Nerja. The exercise is gentle, with simple dance moves set to catchy pop tunes. Ideal for beginners and very popular with the 50+ age group.
5€ per class. Participants should bring water and a towel, and wear trainers and comfy clothing. Saturdays, 11-12 noon, from mid October to the end of April. More info? Tel: 675 846 217or
This email address is being protected from spambots. You need JavaScript enabled to view it.

Nerja Bridge ClubVisitors are always welcome.
Further information and results of all sessions can be seen on the Club's website bridgewebs.com/nerja.
The International Club of Nerja
OPENING HOURS: Tues, Thurs and Sat 11.00 to 14.00 hrs. Open Some Thursday Evenings check for details.
7th Club Re-opens & 100 CLUB DRAW;
17th Tapas Tour;
19th Quiz Night;
23rd Sierra Nevada Day Trip;
25th Gibraltar Day Trip;
26th Burns Night Celebration;
30th Speak Spanish Starter Course;
FEBRUARY.
2nd Pimientito;
4th 100 CLUB DRAW;
9th Ladies Pamper Night;
10th PISCASSO 'He cannot paint!!' Presentation in the Clubhouse;
17th Antequera Tour with Guide & El Torcal;
21st Tapas Tour.
Facebook: cidnerja Email: This email address is being protected from spambots. You need JavaScript enabled to view it.
"Totally run by volunteers"
Costa Animal Society
The Punta Lara Bar invites all quizzers to come and support the Costa Animal Society (CAS) on Friday, July 21 at 7.30 for 8.00pm. Put your pub quiz brain in gear and enjoy trivial pursuits with Quiz Master Terry. Food and drink is available at the bar and the entrance fee of €3 plus all raffle proceeds goes toward helping the animals. Please book with Mark at 635 369 673.
The Costa Animal Society (CAS) has a stall at Nerja's Sunday Car Boot Market where good quality bric-a-brac and clothing at bargain prices is sold to raise funds for the charity. Look for the CAS sign and giant cat at stall 174 located on the right hand side of the market site on the Almijara II urbanization.
Nerja 41 Club
EAST MEETS WEST ! - The iconic El Pimpi restaurant in the heart of Malaga was the venue for a meeting between Costa del Sol 41 Club and Nerja 41 Club. The memberships are not only from the UK and Ireland but many of the Scandinavian countries (including Finland, Denmark and Sweden), Belgium, Austria and Spain ! Each club meets once a month with both also having a lunchtime social meeting including partners at a local restaurant in their areas. If you are an Ex Tabler come and join us for lunch with our ladies and/or a 41 Club meeting.
Try our website nerja41club.org or contact me Alfie Fornear on 626 998 626, or This email address is being protected from spambots. You need JavaScript enabled to view it.
Coral Coraxalia.
For more information please email This email address is being protected from spambots. You need JavaScript enabled to view it. or Tel: 669 682 139 English / 689 111 352 Spanish.
For more information Tel: 669 682 139 (in English) or 689 111 352 (español) / or email This email address is being protected from spambots. You need JavaScript enabled to view it.
Nerja History Group is for anyone interested in Spanish History. We have Lectures and Trips each month. We are of mixed nationalities and lectures are conducted in English. We call ourselves "enthusiastic amateurs" who enjoy friendly, monthly social gatherings. Meetings are held at Cultural Centre, Calle Granada, Nerja 11.00 - 13.00 approx., usually on the first Friday of the month. Please see: www.nerjahistorygroup.es
email: This email address is being protected from spambots. You need JavaScript enabled to view it.
Probus of Velez Malaga
Probus meets on each second and fourth Tuesday of every month throughout the year. The members meet for lunch at El Trapiche Restaurant, Trapiche, for 2.00 p.m. and normally have a guest speaker on the first meeting of the month.
Membership is open to all professional retired gentlemen living in the area. Please view our pages and contact the Secretary for more details at This email address is being protected from spambots. You need JavaScript enabled to view it. or ring (0034) 607 845 603.
Short Mat Bowls, at the Hotel Jimesol - Friendly short mat bowls at the centrally located Hotel Jimesol. Bowling every Monday and Thursday afternoons from 1.45pm to 4.15pm with members of the original short mat bowls club in Nerja. Visitors and new members most welcome. Equipment and tuition available.
Contact: Marian Collins 952 523 754 or Malcolm Saunders 952 520 579.
Come dancing for Cudeca is a group of friends from la Axarquía that have been supporting Cudeca Hospice for 7 years. Supper dances are held starting at 7 pm at Restaurante El Trapiche near Vélez-Málaga on the first or second Saturday of the month except for the hot summer months and during the month of May when the restaurant is busy with communions celebrations.
They have 50:50 dancing i.e. ballroom, Latin, jive, modern sequence, old time, Scottish and party dances on special occasions. There is something for everyone as there are about 80 supporters from the UK, Germany, Austria, Belgium and Spain. Funds are raised during the evening through a charity raffle. Tickets are sold at 1 euro each, usually in bundles of 5 tickets. The edible prizes are donated by the dancers. Each dance event typically raises between 100 and 200 euros, and on their last event on the 9th of January they managed to raise 115 euros.
For more details, contact Joyce or Mike
This email address is being protected from spambots. You need JavaScript enabled to view it. or phone Joyce on 616 046 713 for reservations.