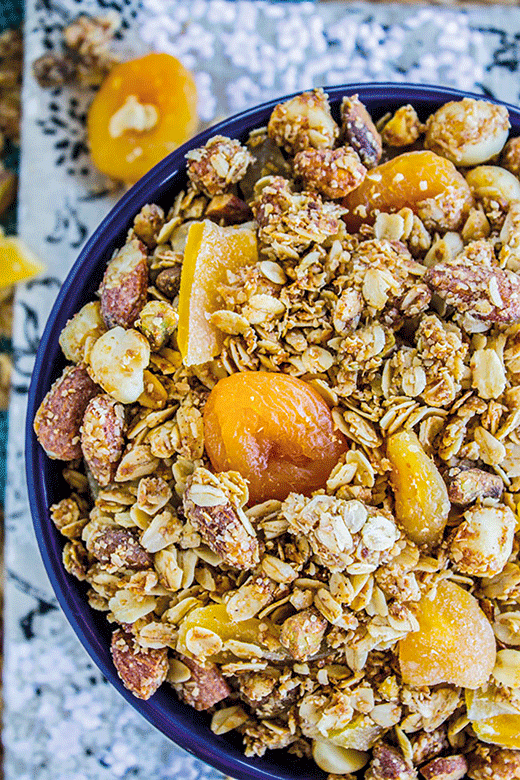 Tropical Mango, Coconut Granola
Ingredients:
Dry:
8 cups rolled oats
1 and 1/2 cups wheat germ
1 and 1/2 cups oat bran
2 (6 ounce) cans Blue Diamond Toasted Coconut Almonds
1 cup macadamia nuts (2 of the 2.25 oz packages)
Wet:
1 cup coconut oil
1/2 cup maple syrup (the real stuff)
1/2 cup honey
1 teaspoon kosher salt
1/2 teaspoon ginger
1/2 teaspoon cardamom
1/4 teaspoon allspice
2 and 1/2 teaspoons cinnamon
1 tablespoon vanilla (or vanilla bean paste)
1 lime, juiced
1 and 1/2 cups dried mango, chopped
1 and 1/2 cups dried apricots, large ones halved
Method:
1. Preheat the oven to 325 degrees F.
2. In the largest bowl you have, combine the oats, wheat germ, oat bran,
Toasted Coconut Almonds, and macadamia nuts.
3. In a medium saucepan, combine oil, maple syrup, honey, salt, ginger,
cardamom, allspice, and cinnamon.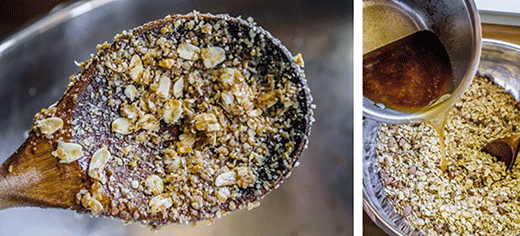 4. Bring to a boil, then remove from heat. Wait about a minute and then
stir in the vanilla (If you do it right away some of it will burn off). Add
the lime juice.
5. Slowly pour some of the liquid over the oat mixture and stir. Add the
rest in a few increments until it is all incorporated.
6. Line 2 large rimmed baking sheets (I used 1 large and 2 small) with
foil or parchment paper. Spray with nonstick spray. Divide the granola
between the pans and spread evenly.
7. Bake at 325 for about 12 minutes, then stir the pans and bake for
another 10-12 minutes, until it's just starting to brown. (If you are
baking all pans at once, rotate the top and bottom pans when you
stir.)
8. Let the granola cool. Sprinkle the mangos and apricots over the
granola and mix in.
9. Store in an airtight container. Ziplocks or quart jars work great.
Notes:
Granola is so adaptable! The honey/maple can be in any ratio you like, or replaced with agave or something similar. Add shredded coconut or replace some other ingredients with it. Dried pineapple would be a great sub for dried mango. Change up the spices.
The possibilities are endless!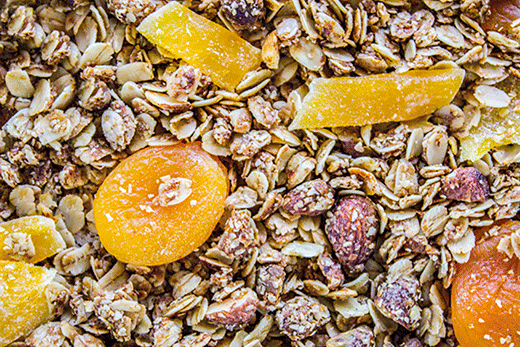 Crispy Baked Salt and Pepper
Chicken Wings
These will probably be the simplest and most amazing wings you'll ever make.
Generously seasoned with salt and pepper and baked to a crisp perfection!
Always bake chicken wings, they are so much better than the fried ones. They turn out super crispy and not to mention a lot less calories.
Salt and pepper wings, make this your project this month and enjoy them, guilt free!
Use smoked sea salt on the wings if you don't you'll miss out.
Prep time 5 mins : Cook time 45 mins : Total time 50 mins : Serves: 4
Ingredients:
2 lb chicken wings
2 tbsp olive oil
1 tsp freshly ground black pepper
2 tsp sea salt
1 tbsp fresh parsley, chopped for garnish
Method:
1. Preheat oven to 425 F degrees. Line a baking sheet with parchment
paper.
2. Place all wings in a medium sized bowl. Drizzle the wings with the
olive oil and toss well, making sure each wing is coated with a bit of
olive oil.
3. Sprinkle the chicken wings with the pepper and salt, and toss well.
4. Arrange the wings in a single layer on the prepared baking pan.
Bake for about 40 to 45 minutes or until they're golden crisp.
5. Sprinkle with more salt and pepper if preferred and garnish with
some chopped parsley.
6. Serve while warm.

Vietnamese Style Chicken Wings
These are wonderful, always bake wings to make them healthier, these wings don't need to be fried to have more flavor, there's plenty of flavor here.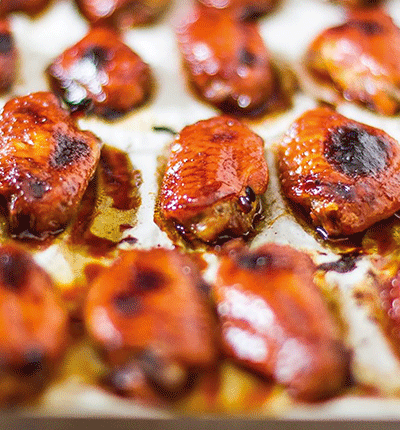 The chicken wings need to be marinated for at least 30 minutes up to 24 hours in this marinade that is very interesting. First you boil the water with the sugar until it starts browning and turns auburn then you add the rest of the ingredients. Once the wings have marinated place them on a baking dish that's lined with parchment paper or aluminum foil.
Bake them for about 40 minutes at 400 F degrees and this is what you end up with. I also brushed them with more of the marinade every 10 minutes. Don't they look delicious? How can you say no to those babies? I know you can't!
Prep time 10 mins : Cook time 40 mins : Total time 50 mins : Serves: 4
Ingredients:
¼ cup water
½ cup sugar
1 tbsp fish sauce
¼ cup water
2 tbsp lime juice (~1 lime)
2 tbsp chili sauce (such as sriracha) or to taste
1 tsp minced garlic
2 pounds chicken wings, rinsed and pat dry
Method:
1. Simmer the water and sugar in a sauce pan over medium heat until
it turns a deep amber, about 10 minutes.
2. Mix the fish sauce, water, lime juice, chili sauce, and garlic and
carefully add it to the pan, then heat until the caramel dissolves.
3. Marinate the chicken wings in the sauce for 30 minutes to overnight.
4. Preheat oven to 400 F degrees.
5. Place the chicken wings on a rack, on a foil lined baking sheet and
bake in the oven until golden brown and crispy, about 30 to 40
minutes. Every 10 minutes brush wings with additional marinade.
Coca Cola Wings
These coca cola wings are sticky, sweet, a bit spicy, juicy and most of all yummy. They're sticky, they're sweet, they're a bit spicy, they're fantastic. Who says coke is just for drinking?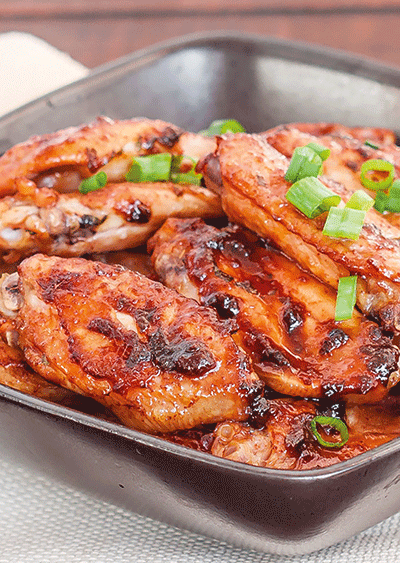 They are BAKED. They're so much juicier, not to mention less calories.
Prep time 5 mins : Cook time 30 mins : Total time 35 mins : Serves: 4
Ingredients:
2 lbs chicken wings
¾ cup coca cola
¼ cup soy sauce
¼ cup good red wine
2 tbsp honey
salt and pepper to taste
2 tbsp basil, chopped
1 tsp chili powder
Method:
1. In a bowl whisk all the ingredients together, and then add the chicken
wings. You should have enough marinade so that it covers the chicken,
if not, just add more coke. Cover with plastic wrap and marinade for
2 hours to 6 hours.
We marinated ours
overnight.
2. Preheat oven to 400 F degrees.
Cover a baking sheet with parchment paper, or a silpat.
3. Place wings on baking sheet and bake for 25 to 30 minutes or until chicken is cooked through. Take remaining marinade and cook
it in a small saucepan over medium heat. It will start to reduce
and thicken in about 5 to 10 minutes. Once it has
thickened into a thick sauce remove from heat. Once wings are done,
brush wings with sauce and garnish with chives or green onions if
preferred.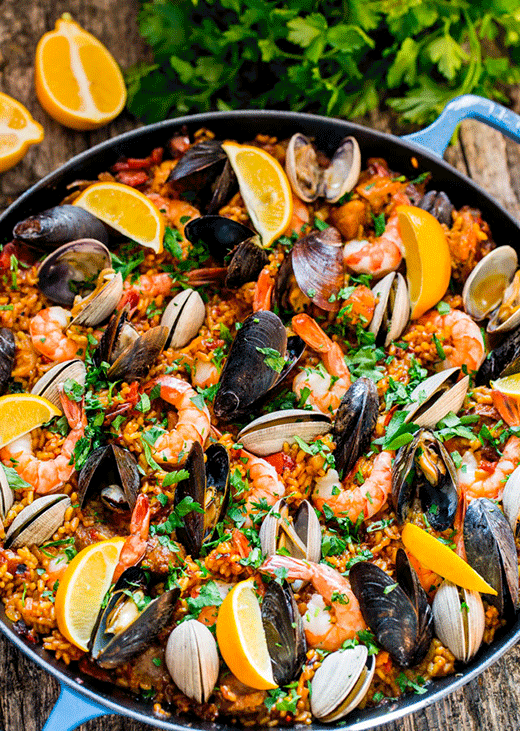 Chicken & Seafood Paella
Prep 10 mins; Cook time 50 mins; Total time 1 hour; Serves: 8
Paella is a classic Spanish rice dish and it's widely regarded as Spain's national dish.
This recipe is by no means authentic, this is just our version of paella. We recommend using a Paella pan because it has a wider surface and the secret of paella is cooking everything evenly in a single layer and as it cooks the rice gets toasty and crispy at the bottom and that's what you want in a good paella.
Ingredients:
2 tbsp olive oil
4 chicken thighs, boneless and skinless cut into 1 inch pieces
2 chorizo sausages, cut into 1 inch pieces (I used Italian sausages)
1 large onion, chopped
6 garlic cloves, minced
1½ cups Paella rice
1 can (14 oz or 398 mL) diced fire roasted tomatoes
4 cups vegetable or chicken broth
1 tbsp hot sauce such as Tabasco or Sriracha
2 tsp smoked paprika
1 tsp saffron
salt and pepper to taste
1 lb large shrimp, shelled and deveined but keep tails on
1 lb clams, scrubbed and soaked
1 lb mussels, scrubbed and soaked
fresh parsley for garnish
1 lemon cut into lemon wedges
Instructions:
1. In a large paella pan heat the olive oil over medium heat. Add the chicken and sausage, season with salt and pepper, then cook for about 5 minutes until the chicken is no longer pink.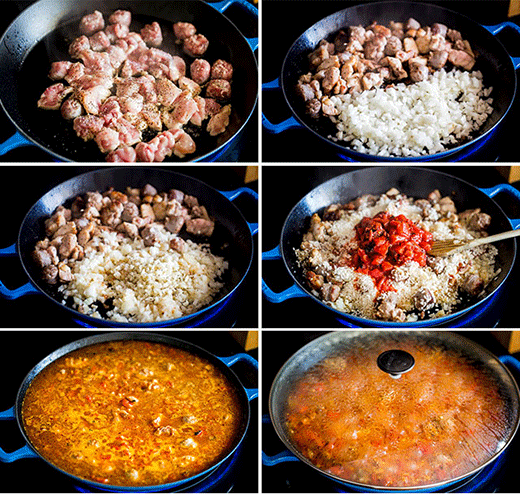 2. Move the chicken and sausage to one side of the pan, then add the onion to the other half, season with a bit of salt and pepper and cook for 2 minutes until the onion becomes translucent and soft. Add the garlic and cook for another minute.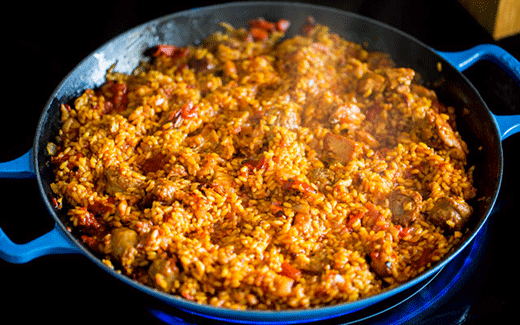 3. Add the rice and tomatoes to the pan and stir well. Let the rice cook in the sauce from the tomatoes for about 5 minutes, you will notice it will start to brown on the bottom, which is what you're looking for. Add the broth, hot sauce, smoked paprika, saffron and season with salt and pepper if needed. Stir everything together and cover with a large lid. Cook for about 15 minutes or until most of the liquid has been absorbed by the rice. The rice will not be cooked through at this time.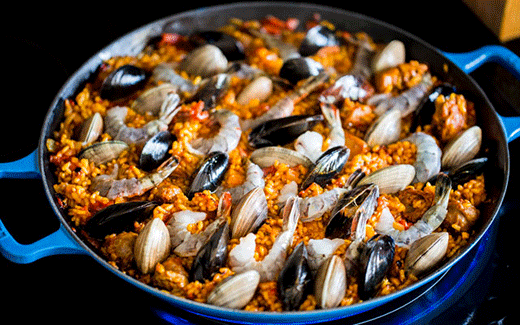 4. Turn down the heat and stir the rice around a bit, you will notice the crust on the bottom of the pan, that's what you're looking for. Arrange the shrimp, mussels and clams over the rice, cover with a lid again and cook for another 10 minutes or until the mussels and clams open up.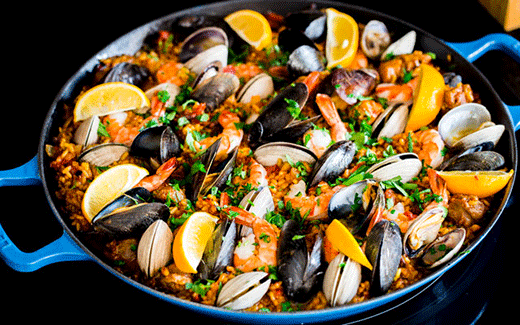 5. Turn off the heat and garnish with parsley and lemon wedges.