Costa Animal Society
Bluebell and her eight siblings
Bluebell was left at the door of CAS's office in January in a cardboard box with her eight brothers and sisters. Luckily, she landed on all four paws a month later when she was adopted by a lovely couple who already had two young male dogs, Toby and Zorro.
Bluebell instantly became best friends with Zorro as she settled into her new family. Her new mother describes Bluebell as their gorgeous little girl who is now so happy with her new brothers.
It is stories like these which make all the hard work of caring for abandoned puppies and finding them new homes worthwhile. With the help of Costa Animal Society (CAS) volunteers permanent homes have now been found for six of these nine puppies, but there are still three more of the lovely guys up for adoption.
Contact CAS for a no-obligation chat if you think you could help. Call Diana on 679 714 612 or the CAS Office on 952 523 607.
Puppy and Kitten Season
Each spring, there are always puppies and kittens left on the Costa Animal Society (CAS) doorstep and, more cruelly, dumped in rubbish bins or left to a worse fate. This year, the problem seems even larger than ever.
One case in March was Ricky, a lovely eight-week-old with black and tan markings, found abandoned in the streets of Nerja. At first, he was quite shy and seemed unsure of his surroundings, but although he was covered in fleas, was otherwise healthy.
CAS arranged for Ricky to have his first set of vaccinations and to be treated for parasites before he was taken to kennels, because no foster home was available at the time. Ricky quickly grew in confidence as he played with the older pups in kennels and after a couple of weeks he was adopted by a young family from La Herradura.
Then, one April morning a CAS volunteer arrived to open the charity's shop in Nerja and found two Labrador cross puppies tied inside a plastic crate at the door. These two lads were very calm and laid back but their ears were completely covered in ticks.
Again, after a trip to the vet surgery for some much needed treatment the Lab puppies were taken to Weston Kennels and are now waiting for their forever homes.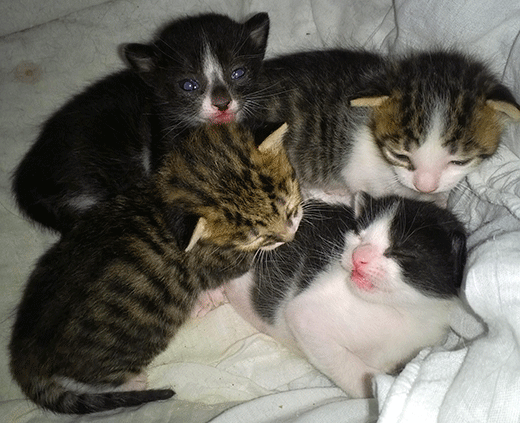 And it's not just puppies. CAS was asked to find homes for a litter of 4 kittens aged around five months, followed by four new-born kittens left on the doorstep of a house in Periana. Two weeks later, a sack containing four kittens about a month old was abandoned on the same doorstep.
CAS has been working closely with other local animal protection groups to find foster homes for these youngsters in a great example of co-operation between the charities. All we need now are some loving permanent homes for these lovely lucky cats.
Anti-cruelty demos
Animal rescues working together has been the theme of a series of anti-cruelty marches which have been organised across the eastern Costa del Sol this spring with the third taking place in Torrox Costa on April 2.
As well as the Costa Animal Society (CAS), there have been representatives from other animal protection groups in the area. These have included Angeles sin Voce, APA Nerja, APARIV, Axarquia Animal Rescue (AAR), and La Xana, all walking together with their canine friends. The next march will be in Nerja during May and anyone who would like to participate is invited to attend.
CAS Summer Ball
To mark its 30th anniversary, the Costa Animal Society (CAS) is hosting its Pearl Anniversary Summer Ball on Thursday, June 30, at 7.30pm. The venue will again be the Hotel Rural Almazara, located at the motorway junction on the road between Nerja and Frigiliana.
The ticket price of €35 includes canapés with refreshments, a three-course meal plus coffee and an after dinner drink. Live music from the 60s to the 90s will be played by the ever popular Flying Dolphins with dancing until midnight.
The theme for this landmark occasion is "Dress To Impress" and early booking is essential with Diana on 679 714 612 or through the CAS Office on 952 523 607.
CAS fund raising news
The Punta Lara Bar is proud to present their next Costa Animal Society (CAS) quiz on Friday, May 20 at 7.30 for 8.00pm. Fire up those grey cells to test your knowledge against Quiz Master Laura's trivial pursuits and you may come ahead in the end. Food and drink is available at the bar and the entrance fee of €3 plus all the raffle proceeds goes toward helping the animals. Please book with Mark at 635 369 673.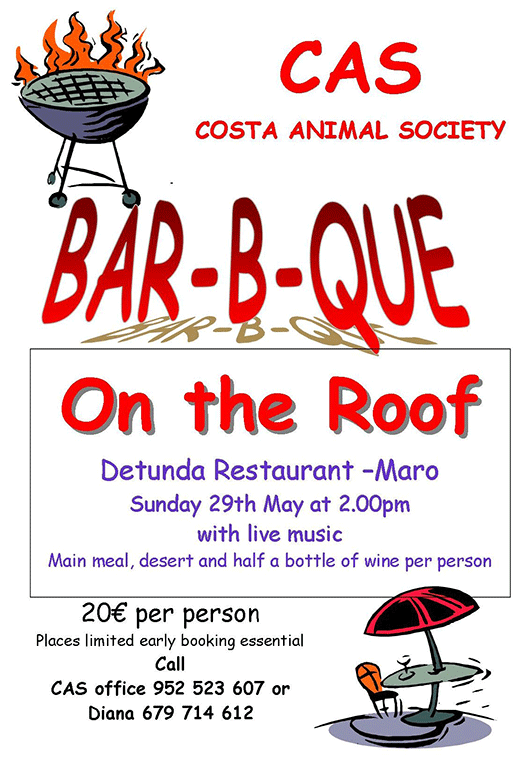 Start the summer off early this year with a Costa Animal Society (CAS) barbecue and live music on the roof terrace of Detunda Restaurant in Maro on Sunday, May 29 at 2.00pm. The ticket price of €20 per person will include a main meal, dessert and a half bottle of wine per person. All profits and raffle proceeds will benefit abandoned and abused animals in our area. Places are limited so early booking is essential. Please call Diana ob 679 714 612 or at the CAS Office on 952 523 607.
The Costa Animal Society (CAS) has reignited its stall at Nerja's Sunday Car Boot Market where good quality bric-a-brac and clothing at bargain prices is sold to raise funds for the charity. Look for the CAS sign and giant cat at stall 174 located on the right hand side of the market site on the Almijara II urbanization.
Could you help CAS?
The Costa Animal Society is always in need of more volunteer helpers in a number of areas, so if you have spare time to fill, please make contact!
In particular, more fundraisers are needed to work with our team, people are required to help with the feeding of the cats at the numerous feeding stations maintained by CAS, and animal lovers who could undertake a monthly airport run are necessary to take animals being re-homed in northern Europe to catch their flights.
In addition, fosterers are always required to take short-term care of animals until a permanent home can be found for them. Even if you are only here for few months a year, CAS would appreciate your help.
For a no-obligation chat, contact Vera on 95 252 9670 for general enquiries. Simone on 619 903 815 can answer queries about airport runs in English or German.
And despite the tough times, money is still needed to cope with the continuous flow of abandoned dogs and cats requiring help from the Costa Animal Society.
If you could donate a little to help the animals, CAS would be most grateful.
Bank : Cajamar
Account Name : Costa Animal Society
Account Number : 3058 0728 03 2720100283
BIC-Swift Code : CCRIES2A
IBAN Code : ES91 3058 0728 0327 2010 0283
Or visit the CAS Charity Shop Almirante Carranza, just off Antonio Ferrándiz "Chanquete", Nerja. It's open Monday to Saturday from 10am to 1pm.
APARiV ANIMAL PROTECTION
APARiV Dog Rescue in Rincon de la Victoria is always looking for people willing to adopt or foster their dogs. We are always looking for volunteers to help us with various things inside and outside the refuge. We also have a charity shop with many cheap second hand items for sale on Av. Duque Ahumada in Torre del Mar. In case you are interested in one of our dogs or in helping out please contact Alix at: 610 902 019.
Here is information regarding just one of our many dogs:
TIKO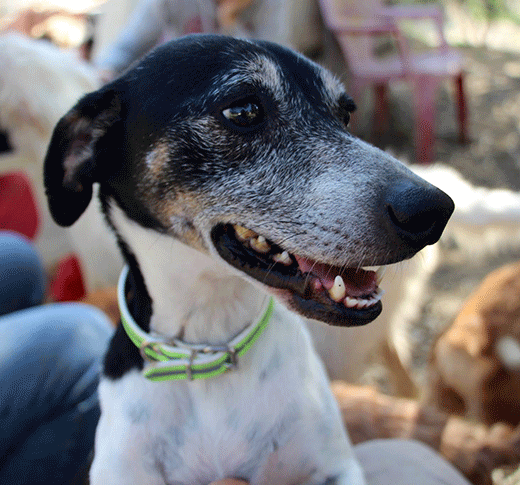 This month it is Tiko's turn. Tiko is a Spanish bodeguero. These smaller sized dogs are used here for the rabbit hunt because they can crawl into small holes. Someone probably didn't think he was a good hunter
so they threw him over our fence. Tiko was very nervous at first.
Obviously he was not castrated and that had allot to do with that.
So when he got "done" he calmed down allot. He still is a very active dog and loves to play. He also likes human attention allot and always tries to climb on our laps. We are not sure about his age but he must be at least 8 years old. Who has a lap to spare for little Tiko?

If you would like to know more about Tiko or any of our dogs please call Lola on 657-219-269 or visit our website
www.apariv.com

PLEASE HELP US BY FOSTERING A DOG
Have you ever thought about fostering a dog until a new home can be found? We have several dogs, particularly smaller ones, that desperately need a foster home as they do not adapt as well as others to living at the refuge. A foster home often provides a safer and more nuturing environment for these dogs. In addition to our gratitude, one of our four legged friends would become your devoted companion while in your care. Can you help us by considering becoming a foster home for one of our dogs?
If you are interested in adopting or fostering please call
Lola 657-219-269 or visit www.apariv.com.